The International Date Line is one of those travel destinations that often eludes even the hardiest of travellers. It's out there in the middle of the Pacific Ocean, the place where today becomes tomorrow or where yesterday is really today. Travel east and you lose a day. Travel west and you gain a day.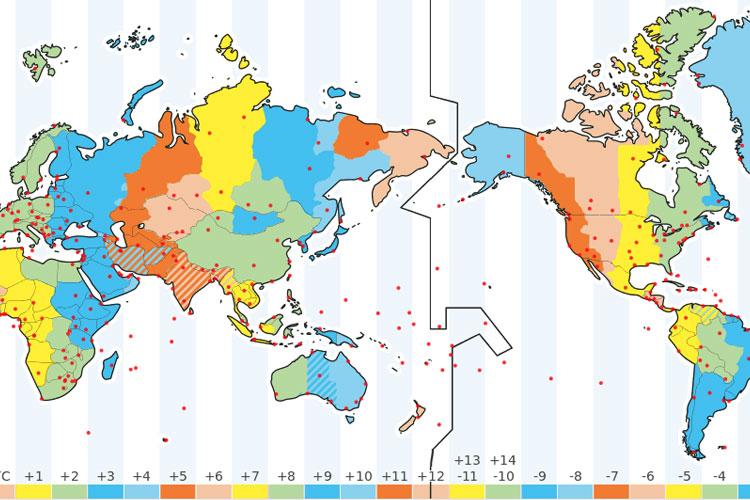 Technically, the International Date Line is located at the 180º line of longitude. The problem is – there are not many places where that line actually touches land, thus allowing you to stand in both today and tomorrow and yesterday all at the same time.
Fiji is one of those places where you can do it.
Where Exactly is Fiji?
Fiji is one of those beautiful South Pacific island nations where you expect Rodgers and Hammerstein-wannabes to jump from behind a palm tree and break into song. That English is one of the official languages makes it an easier travel experience for most North Americans, although the 10-hour flight from Los Angeles is into Nadi (pronounced Nan-di). is about as much fun as it sounds. New Zealand is about 1200 miles south and Australia is about 2000 miles east.
Made up of 320 islands, Fiji requires an airplane or a boat for getting around. I chose Captain Cook Cruises, in part because they promised to take me to the International Date Line. We were on the Reef Endeavor, a small ship with the capacity for just 130 passengers, thus making it easier for the boat to snuggle up close to many of those islands and wiggle in and out of coves that big ships just can't maneuver.

It had everything you want on a cruise – lots of good food, a small spa service, a swimming pool, evening entertainment and an attentive, professional staff. Many of the guests were from Australia or New Zealand, so that was fun talking with them and hearing their perspective on life. In addition to a visit to the International Date Line, the shore excursions included swimming at Bouma Falls, attending a Fijian language church service and an authentic village kava ceremony.
Finding the International Date Line
The International Date Line makes landfall on the island of Taveuni, a place we visited on a Sunday morning.There were no signs, no streams of traffic or tourists to follow. No lines. If our guide from the boat hadn't led the way, I would not have had a clue which way to go.
We made our way across what appeared to be a soccer field or sporting venue of some kind toward a grove of trees and a little tin shack of some kind. The shack, as it turned out, was an Assembly of God Church located right on the 180th meridian. So were they worshiping on Saturday or Sunday, or was it Monday already? Nearby under the little grove of trees a few feet from the church was a rather beat up sign.
This was it. This was the International Dateline.
At first it was a little underwhelming. There wasn't so much as a chalk line painted on the well-worn ground and the sign was in serious need of some maintenance.
There were no T-shirt vendors or vendors of any kind selling over-priced chotskies with "international dateline" stamped on it. There was no one selling ice cream or anyone offering to take your picture for an outrageous tip.
It was kind of refreshing – a place not spoiled by the economics of tourism.
We all took each others' pictures and stood around for a while, then returned to the boat, with a sense of satisfaction. That's what travel is all about.