In my work as a travel writer, I have been blessed with the opportunity to stand on the international dateline, the top of George Washington's head on Mount Rushmore, the base of Japan's Mount Fuji, and at the gates of Abu Simbel in Egypt.
But few places made me as happy as standing on a very simple street corner in Winslow Arizona. 
Yeah, you know the one I'm talking about — where the sound of your own wheels won't make you crazy.
        

SING IT WITH ME!!!!
https://www.youtube.com/watch?v=4c3FD6msOzo
This post contains affiliate links, which means we may receive a small commission if you make a purchase through a link. There is no additional cost to you.
Take it Easy on a Winslow Arizona Corner
The thing is — Glenn Frey and Jackson Browne, who wrote the song, had never been to Winslow and certainly never stood on this corner when they wrote those famous lyrics.
The Eagles released "Take It Easy" in 1972, a time when Winslow was struggling. Route 66 passes right through town, but when the traffic of Interstate 40 passed north of the city, most downtown businesses closed their doors.
Finally, more than 25 years after the Eagles got people opening their Arizona road maps in search of Winslow, some music-lovin' business leaders thought there might be some benefit in designating a corner for people to stand on.
Which Corner in Winslow Arizona
That corner was a vacant lot at the intersection of 2nd and Campbell streets, right on Route 66. They painted a mural, put up a statue of a generic-looking traveler carrying a guitar, and parked a red flatbed Ford at the curb. However, there's no girl in that flatbed Ford. My Lord!
The song plays over and over and over and over. And over.
You know what they say – "build it and they will come."
They now come to Winslow by the busloads, in private vehicles, on motorcycles. Some hitchhike and show up day and night. Everyone stands around, take each others' pictures, and sing a little bit. And a funny thing happens. They spend money. A gift shop opened on the other corner, a coffee shop a few steps away and across the street, a diner and soda fountain.
A few years ago, city leaders added a statue of Glenn Frey to the mix.
The last week of September is the official "Standin' on the Corner Festival" in Winslow, where lots of  70's-era bands take us back to the days of bell-bottom pants, granny glasses and suede, fringed vests.
And we love it, because "we may lose and we may win, but we will never be here again."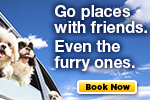 ---
Go Stand on that Corner